Dow AgroSciences, the manufacturers of the Sentricon System, received one of the U.S. government's top environmental honors, the 2000 Presidential Green Chemistry Challenge Award. The U.S. Environmental Protection Agency (EPA) awarded honors to the Sentricon ®Termite Colony Elimination System, the technology that eliminates termite colonies using a very small amount of termite bait only when and where termites are present.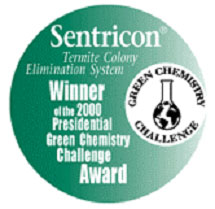 This prestigious award, presented by the EPA on behalf of the president, recognizes technical innovation that incorporates the principles of "green" chemistry into chemical design, manufacture and use. The Sentricon System was the first and is the only termite control product to receive the highly-respected award.
And here's another first: The Sentricon System was the first product approved under the EPA's Reduced Risk Pesticide Initiative. Today, more than 750,000 structures across the country are protected using this revolutionary technology. It is currently protecting historical structures such as the Statue of Liberty, the White House and Independence Hall!
Use of this technology is expanding globally, protecting structures in Australia, France, Spain and Japan. The Sentricon System has successfully eliminated termites from a 10-acre area of Bourges, France, and is protecting the Senate building in Rome, as well as avenues of trees lining the streets of Paris.
"The impact of the Sentricon System on the termite control industry has been significant," says Reid Sprenkel, general manager, Professional Pest Management at Dow AgroSciences LLC. "Receiving the Presidential Green Chemistry Challenge Award further illustrates Dow AgroSciences' commitment to the development of innovative and environmentally responsible pest management.